'Tis the season for giving, and we've got the hottest holiday beauty gifts for all the cosmetics-addicts on your list (yes, even that co-worker who has everything)! You can never go wrong giving brushes, lip glosses and bath products, so here are the top ones of 2011:
The gift that's on everyone's lips! Ticket To Glossytown by Benefit is a limited edition set of six glitzy mini glosses finishes any look with show-off shine. This special collection of ultra shines drenches lips in juicy color that never feels sticky. Give it as one gorgeous gift or divide them up into multiple petite presents. Ticket To Glossytown $24
Stila has long had some of the tastiest, brightest lip-glosses around, and this holiday season is no exception. Snap up this set of eight glosses—made up of four bestsellers and four limited edition items—for maximum lip color. This gift set in particular is flying off the shelves; so if you want to get your hands on it, don't wait too long. Stila holiday lip glaze set 2011 is a $110 value for only $25!
Give the gift of kisser TLC with this 'pout'-of-this-world kit – the only one-'spa'-shop that cares for lips to leave them full, healthy and beautiful in four simple steps. Designed to recreate Bliss spa's popular and unique Fabulips treatment, this pucker-perfecting kit is like a facial for lips. First, lift impurities and lip color with a one-of-a-kind foaming lip cleanser. Then, polish lips and remove dead skin with this deliciously sweet and gentle sugar lip scrub. Follow up with a visibly volumizing instant lip plumper to help lips reach their fullest potential, and seal the deal with a luscious moisturizing softening lip balm. It's the simplest way to get a 'spa'-tacular smooch every day. Fabulips Treatment Kit for $45.00
Philosophy's holiday ornament bundle features three festive favorites. A perfect way to trim the tree! Enjoy peppermint bark, the gingerbread girl and cinnamon buns shampoo, shower gel & bubble baths 2 oz. for only $15 Holiday ornament bundle gift set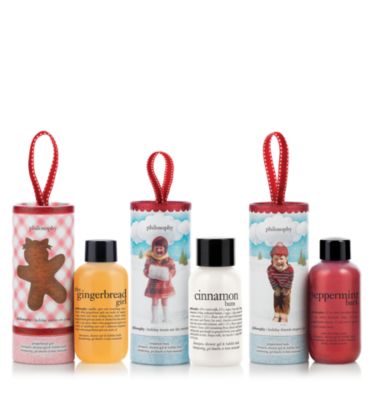 A cool, crisp season comes to life with this invigorating candy cane lane gift set. Foaming bubble bath & shower gel 4 oz., body lotion 2 oz. and high-gloss, high-flavor lip shine .5 oz. Leaves skin feeling super clean and soft and lips looking glossy and beautiful. Crisp peppermint scent livens the spirit and adds joy to the holidays. Holiday Candy Cane Lane gift set – Candy cane lane $22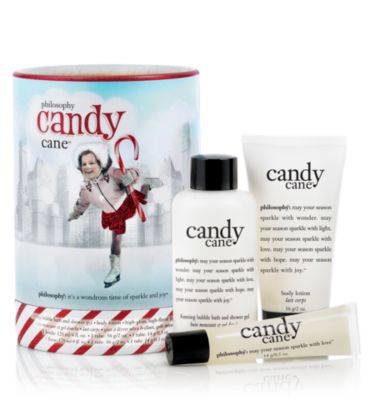 A must-have set for any makeup maven, Stila's Brush Set features five essential brushes for easy makeup application. This holiday 5-piece brush set of Stila's best-selling brushes delivers flawless makeup application for complexion, eyes and lips. Brushes include: #24a powder brush #6 lip color and liner brush #9 all over blend brush #33b domed concealer brush #5 eye shadow brush. Holiday 5-piece brush set $28.00